State initiative reclassified felony crimes to misdemeanors and sweeping vote allowed changes to apply to those serving sentences
Kisha Sniders mother and cousin waited anxiously to greet her as she walked free from prison in a clean pair of white jeans, black sneakers and a sparkly T-shirt.
The 42-year-old mother of four was one of more than 500 men and women in Oklahoma whose felony sentences for drug possession and theft were commuted by a sweeping vote of the state pardon and parole board and released early from prison on Monday in what experts say may be the biggest single-day release of prisoners in US history.
Oh my God, Im so happy, Snider said, wiping the tears streaming down her face as she was released years earlier than expected from Eddie Warrior correctional center in Taft, about 45 miles south-east of Tulsa. Her cousin, Niese Jenkins, hugged her, then posed for a flock of television cameras. She yelled: Were going home!
Governor Kevin Stitt, a Republican, shook the hands of the women as they left Eddie Warrior on Monday afternoon. Oklahoma voters approved a state initiative in 2016 that reclassified certain drug and property crimes as misdemeanors instead of felonies. This year, lawmakers passed a bill making those changes apply to people who were already serving felony sentences for those crimes.
The mass release marks a striking change for criminal justice reform in Oklahoma: per capita, the state has the second-highest incarceration rate in the US. And it locks up women at the highest rate of any state. Before the mass release on Monday, state prisons held almost 25,750 people.
Police pulled over Snider in 2015 while she was driving in the tiny Oklahoma town of Boley; they said she had activated her turn signal too early, made a wide turn and had a burned-out light over her license plate. According to the police report, officers found two marijuana cigarettes in her red Mazda.
Prosecutors offered Snider a deal: go through the states drug-court program or face eight years in prison.
Snider struggled for three years to meet all the requirements of drug court, including paying hundreds of dollars for drug tests from the money she earned at an $8.10-an-hour job as a nurses aide. Last year, she said, she decided it was just easier to go to prison.
On Monday, she was among at least 55 women who were slated to leave Eddie Warrior, a minimum-security prison that was once an orphanage for black children.
They were mothers and grandmothers, women who struggled to pay bills and beat addiction while working as dog groomers, hotel clerks and nursing home aides.
On Sunday morning, they packed up their few belongings in the dormitory-style housing (one woman was so excited she packed her pillow, making for a hard nights sleep on the metal bunk beds).
The release was a huge undertaking: a coalition of social service groups worked to help inmates find safe housing and job prospects, obtain valid state identification cards and get clean outfits to wear on the trip home. They were preparing for a journey thats about more than just physical distance.
Tana Hackley, 46, will owe almost $5,000 in court costs when she returns home to western Oklahoma. But she had faced almost 15 years for meth possession at one point so shes grateful for a fresh start.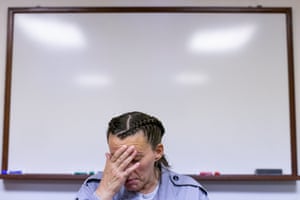 Source: http://www.theguardian.com/us