Jos Mourinho saw his side 2-0 go down after only 19 minutes but they fought back for a win with goals from Dele Alli and Serge Aurier as welll as a Harry Kane double
Jos Mourinho has had a few Champions League saviours over the years but on this occasion, his first home game as the Tottenham manager, he could be indebted to a ballboy.
Spurs had been two goals down to an energetic Olympiakos team, with their defence looking far from secure, only for Dele Alli to change the complexion of the tie with a close-range finish in first-half stoppage time. The goal was a gift, courtesy of a terrible error from the defender Yassine Meriah.
But the one that put Spurs in charge, lining them up for a result that ensured their qualification for the last 16, followed a piece of quick-thinking from a ballboy on the touchline close to Mourinhos dugout. He returned a dead ball with no little swiftness to Serge Aurier, who freed Lucas Moura with a throw-in. Lucas crossed, Harry Kane did the rest and Olympiakos were broken. In the celebrations Mourinho sought out the kid for a high five and a hug.
With Red Star Belgrade losing at home to Bayern Munich, Mourinho needed only a draw to maintain his personal record of never having failed to reach the knockout rounds of this competition. He may have mentioned that on Monday. But Spurs wanted more and they got it.
Auriers shot for the third was a beauty, cutting across the ball with the laces of his right boot after Alli had crossed and Son Heung-min flicked it on to send it fizzing into the far corner, while Kane headed the fourth from a Christian Eriksen free-kick.
Mourinho had introduced Eriksen for Eric Dier as early as the 29th minute and it is clearly not a good look for a manager to make a substitution so early. It says he got his starting approach wrong and is also horrible for the withdrawn player. At that point Spurs were disjointed, vulnerable and Mourinhos big night was in danger of falling flat.
Yet it all ended well and the abiding image of the closing stages was that of Alli performing what felt like a half-lap of honour after his substitution, departing around the perimeter of the pitch in front of the South stand. Mourinho joined in the applause and threw a congratulatory handshake at the midfielder when he reached him.
For Mourinho it was all about resetting the connection between the team and the home crowd after the turbulence of the form that precipitated Mauricio Pochettinos sacking and although it was notable there were no songs for the new manager, it was nonetheless a stirring comeback.
The game could not have started any worse for Spurs. Olympiakos opened with a slickness of thought and action while the home side were error-strewn and ponderous. They were 2-0 down after 19 minutes and the second goal, in particular, would have cut Mourinho to the core.
Moments earlier Guilherme, let loose by Danny Rose at the near post, could not connect with a Giorgos Masouras corner. Spurs did not take heed. Masouras swung in a corner from the opposite side, again the marking was poor this time from Harry Winks Guilherme flicked on and Rben Semedo converted.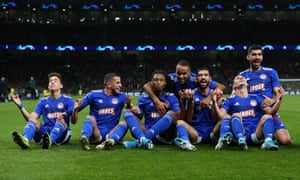 Source: http://www.theguardian.com/us