In a country with nearly 100 murders a day President Andrs Manuel Lpez Obrador has vowed to tackle the social roots of crime but change is slow to come
Brianna Rojas seemed her usual breezy self as she set off for work.
Ill see you later! friends remember the 20-year-old calling out as she headed to her insurance companys bright yellow offices on Tijuanas Calle del Carmen.
But by lunchtime Rojas was dead shot in the head at close range by an unknown assassin whose attack pushed the number of homicides here to almost 1,800 so far this year, and nearly 26,000 nationwide.
When first responders arrived they encountered a fearful scene: the victim slumped backwards in a black swivel chair, her arms flopping downwards towards a pool of blood as if she had been caught completely by surprise.
She was a decent girl, a good-looking girl she was always smiling, said her longtime boyfriends father as shellshocked relatives gathered outside and crime scene officers prepared to transport Rojass body to the citys overburdened morgue.
Its devastating what is happening here, said the man, who asked not to be named. It is out of control.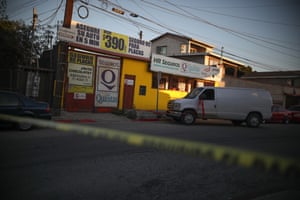 Source: http://www.theguardian.com/us